Why A Teske Lawn Program?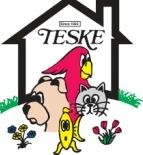 Bill T of East Moline has used Teske Lawn Programs Every Year For The Past 10 Years. Bill says. . .
"Products have lived up to what Teske's says. It works when you follow the directions. Easy to do. I have been very pleased with the guidance I get from Teske's. Everyone should try it."
You can take care of your lawn by buying each item when you need it, but for best results you need a plan. With a plan you will keep your lawn healthy and avoid many problems rather than chasing after one fix for a bad lawn after annother. Prevention is better than trying to cure.

If you buy the whole program at one time you will save money. Usually almost 20% over the price of each single item in the program.

If you buy a Teske Lawn Program you will get an additional discount on selected pest control items purchased in the store.

If you would like, Teske's will store your lawn program in our warehouse so you will not have bags filling up your garage.

If you would like, Teske's will call or e-mail you when it is the proper time in our area to apply each step of the program.
See Each Page Of Lawn Programs For The Special Features Each Selection Contains.
To Learn More About The Basic Program Click Here
To Learn More About The Five Step Program Click Here
To Learn More About The Natural Program Click Here
Thank You